FARA
FARA Alpha 17: Iconology is LIVE!
---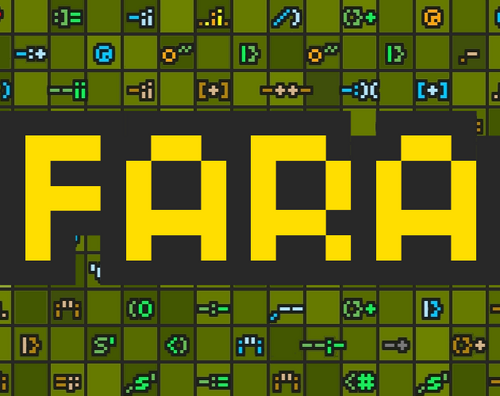 Long time no see, traveler!

Alpha 17 is now LIVE and every facet of FARA has been updated. Combat and exploration should feel more rewarding, the crafting and cooking systems have been reimagined, and power progression has been streamlined to make it easier to gear up the way you want. Below are a handful of highlights, but a detailed breakdown of every change made in the past year can be found in the official change log: https://playfara.com/changelog.txt

Visuals:
- FARA's got a new look! Icons have been added to represent items and entities throughout the game. The default interface has been updated to better accommodate different input types, surface relevant interactions, and put important information front and center.

- Added several new settings to customize your experience, all of which can be found under /settings
Audio:
- Added sound effects! Simple sounds have been added for many common occurrences like attacking, casting spells, and completing quests.

- Added some music! There's a theme for every biome, a combat track, and few special songs for special places. It can be enabled with /music.
Gameplay:
- The gear and power systems have been reworked to revolve around the concept of tiers. Generally, the higher tier something is, the more powerful it is. An entity's tier is determined by the average tier of their equipment. For entities who don't wear equipment, their power is typically determined by their original location. As one travels further and further from the start of the game, the average tier of entities and items increases.

- Removed the Light and Darkness elements. The remaining elements and their attack effects have been adjusted to allow better counterplay between them.
- Added a new interface for exchanging items with common entities like storage chests, carts, and campfires
- Every class has been updated to scale better and have more impactful abilities.
- Blights now do a little bit of everything instead of one random bad thing.
A big part of the reason I was able to pack so much into this update is because of FARA's awesome community. Thank you all for your feedback, ideas, and guides. Words cannot express how much I appreciate your enthusiasm and support. If you haven't already, consider joining us on Discord! Getting multiple perspectives has only done great things for the game, and I'd love to get even more people involved in this delightfully strange game development journey.
- B
Comments
Log in with itch.io to leave a comment.
Yay! Thanks for the update
I'm really glad that you are back with an update, been slowly getting stuck in with the latest update to see how things have changed/stayed the same.